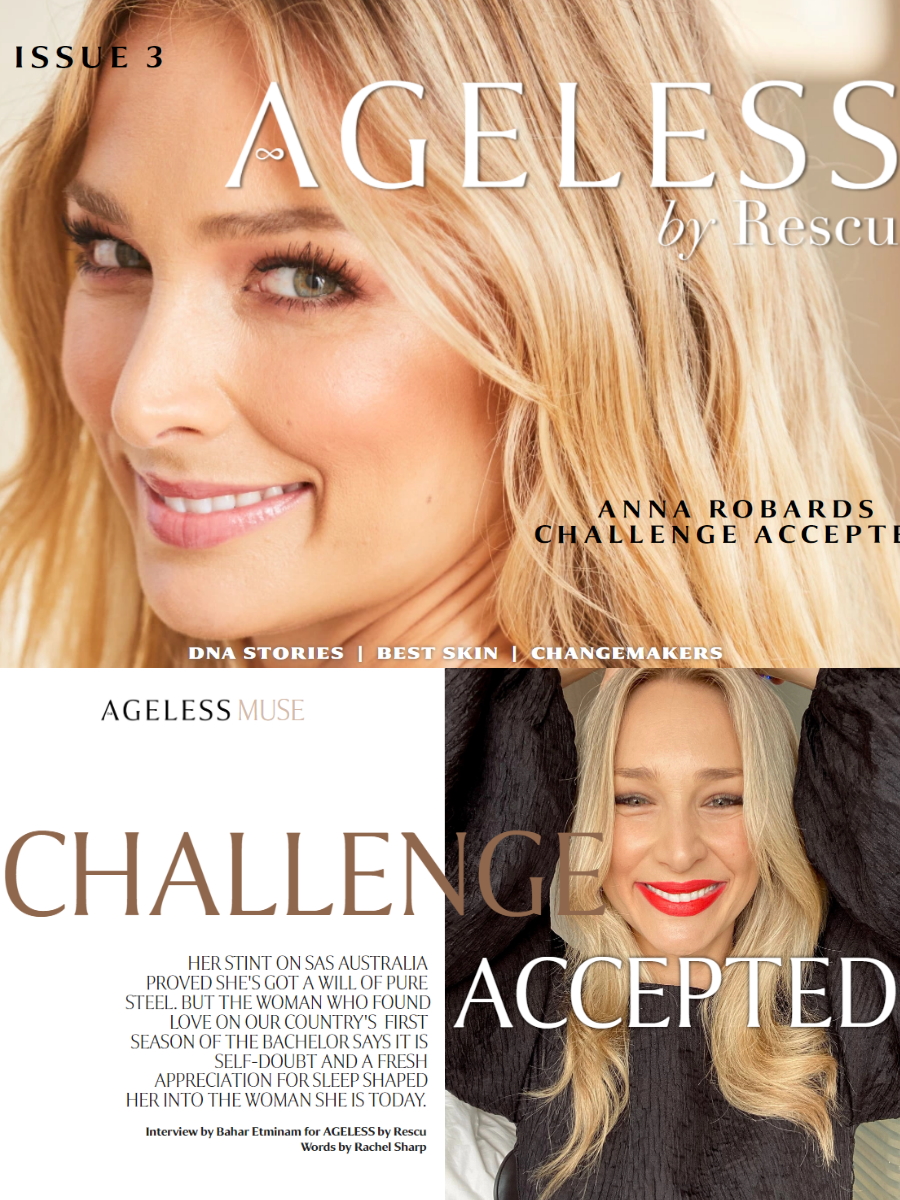 Anna Heinrich- Robard stars on Issue 3 of AGELESS by Rescu magazine
Following the success of its first two issues, e-magazine AGELESS by Rescu has released its third issue featuring Australian media personality, mum and wellness entrepreneur Anna Heinrich-Robard on its cover.
"Issue 3 explores our DNA heritage and its impact on our genetic blueprint for health and life span. Understanding our genetic codes and predisposition to disease is the very cornerstone of becoming 'Ageless.'" says Rescu founder and publisher, Bahar Etminan.
"Once we discover where we come from, epigenetics – or lifestyle changes that the way our genes express – can help us steer toward a new path.  Science says we can positively influence our destiny with simple and effective lifestyle changes and choices."
For the 66 page Autumn edition, cover star Robard's inspirational appearance on SAS Australia showed us what accepting life's challenges looks like at any age; cult Danish fashion designer Anine Bing; Kris Abbey's wellness travel story and an in-depth hair feature bring an uplifting dose of glamour and sartorial inspiration to the latest issue.
Dr Steven Cohen, the US-based plastic surgeon and stem cell pioneer has a refreshing perspective on the future of beauty. Dr Malcolm Linsall and Dr Charles Cope share insights on the world's number one surgical enhancement procedure – breast augmentation – and Noelle Faulkiner looks at the science behind the "Pleasure Revolution". Dr Aliya Nasser  explores understanding hormones for optimal health and enhanced beauty, and meditation expert Tim Brown breaks down the compelling reasons to make this biohack a key tool in your beauty and wellness journey.
In feature 'Meet the Makers' Rachel Sharp introduces us to five Australian entrepreneurs that are changing the beauty landscape and Power Stack is the shorthand guide to the very best in supplements.
"My new normal is a deepened commitment to cellular wellness. I have become almost obsessed with research on the products, treatments and diagnostic tools to help shore up immunity, rejuvenation and the ability to enjoy life fully and for as long as possible.  It is with this passion that this issue brings you more of the experts, products and modern muses that are living their best lives or helping us live ours," add Etminan.
Listen to the Ageless by Rescu podcast here.