Chemcorp International is a privately owned Australian business with extensive experience developing, discovering, and delivering beauty solutions in both the consumer and professional industry sectors.
Following continued, solid growth over the past 10 years with an ever-expanding portfolio of global and Australian iconic beauty brands, the company is set to move into a new, state-of-the-art warehouse and office facility.
The first shovel hit the soil last week, with the project set for completion by Hansen Yuncken in Q1, 2023.
Chemcorp Managing Director Jodie Phillips said: "Our beauty and wellbeing portfolio has continued to grow rapidly across the past decade. This move will allow us to realise our immediate growth, as well as provide potential for the future."
John Fisher, Jodie's father, started Chemcorp like a true entrepreneur from his garage in the late 80s and in 1990 moved Chemcorp into its first official warehouse in Penshurst.
In 1995, the company upgraded to approximately 1,600sqm in Bankstown. The next move was to the 3,500sqm warehouse, office, and showroom, designed for the business by John, at 7 Box Rd Taren Point, in 2005.
"This was a site we thought would never be outgrown," Jodie said.
Next year, Chemcorp will move into the 9,130sqm office, showroom, and warehouse at 63 Jedda Road, Prestons.
"Over the past two years our business has grown exponentially, and we have added some seven new brands to our portfolio," Jodie said.
"Our iconic 1000Hour brand continues to go from strength to strength and it's exciting to see a product created by my father in 1992, celebrate 30 years this year; plus, we've acquired and are relaunching another iconic Aussie brand pureTAN."
Chemcorp employs more than 50 staff and offer a full solution, exporting and distributing to over 15 countries.
Chemcorp's own brands include 1000Hour, Protech, Bathefex, Schoolies, pureTAN and Freestyle.
Chemcorp is the Australian distributor for Real Techniques, EcoTools, SheaMoisture, AHC, Shakeup Cosmetics, Dr Teal's, Spascriptions, RapidLash, Black Leopard, Cricket, Eco Style, The Humble Co, Freeman Beauty and PlusOne.
Images from the sod-turning ceremony below. Photos: John McRae.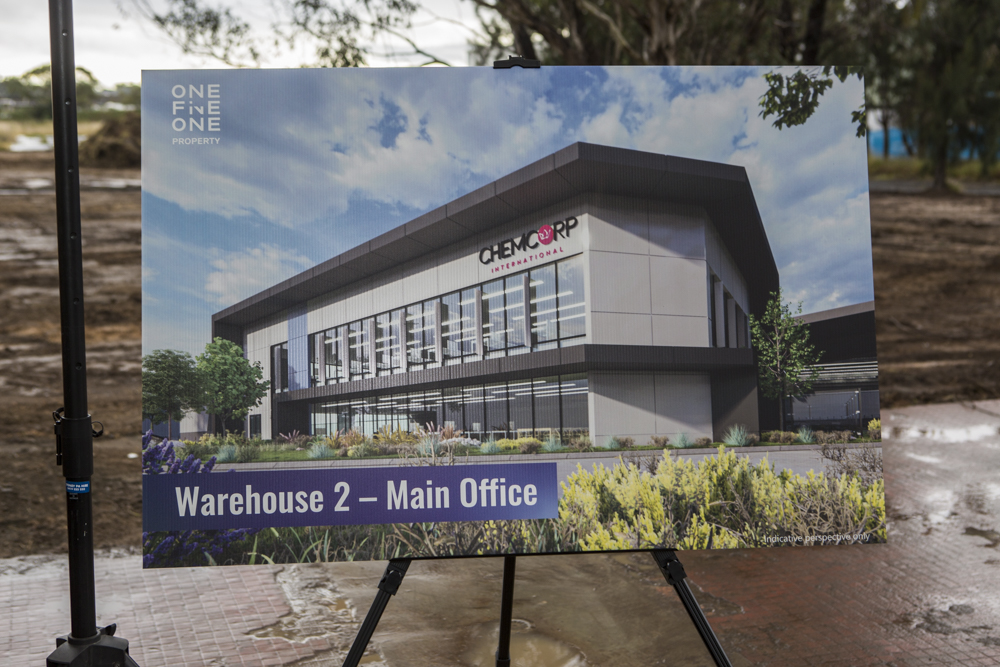 Read the current issue of our digital magazine below: