Prestige fragrance prices increased by 15 per cent in 2021, as US consumers indulged in stronger concentrations and higher-priced luxury brands, says NPD.
We are witnessing the same trend in Australia, with the fragrance category performing well in the prestige beauty industry in 2021.
Romano Ricci was a perfumer ahead of the trend, founding of niche French fragrance brand Juliette Has a Gun back in 2005.
The great-grandson of famous Nina Ricci, owned by the Spanish beauty and fashion group Puig, Romano broke free from his heritage to be, first and foremost, a unique creator bonding intimately with each of his fragrances, giving them character rather than just a simple olfactory identity.
His latest juice, which takes inspiration from the late 1960s and early 1970s, is Magnolia Bliss.
"I imagined a Juliette as free as that famous summer of '69," he said.
"With flower crowns, polaroid flashbacks, pastel shades and seventies soundtracks, my Flower Power heroine falls for the bohemian spirit without forgetting, as always, her rebellious nature. Composed around Magnolia Essence, the fragrance instills the memory of a bucolic summer, while the Mirabelle Plum, slightly gourmand, invites the senses to free themselves… Peace."
The fragrance notes are as follows:
TOP NOTE Bergamot Essence
HEART NOTES Magnolia Essence Mirabelle Plum
BASE NOTES Ambroxan Musks
OLFACTORY FAMILY Floral fruit
Juliette Has a Gun Magnolia Bliss was launched over breakfast to media and influencers at The Grounds of Alexandria.
Michael Marzano, National Education Manager, Agence De Parfum (the brand's local distributor) said Magnolia Bliss was: "Flower Power spirit embodied in a fragrance!"
"Imagine the summer of '69 with flower crowns, pastel shades, super eight videos and seventies soundtracks chanting freedom and tolerance," he said.
"A peaceful Magnolia composition, twisted with a delicious note of Mirabelle Plum and a refreshing Bergamot essence."
In Australia, Juliette Has a Gun is available from Myer, David Jones, Sephora, Adore Beauty and libertineparfumerie.com.au.
Images from the launch event below. Photography by Esteban La Tessa.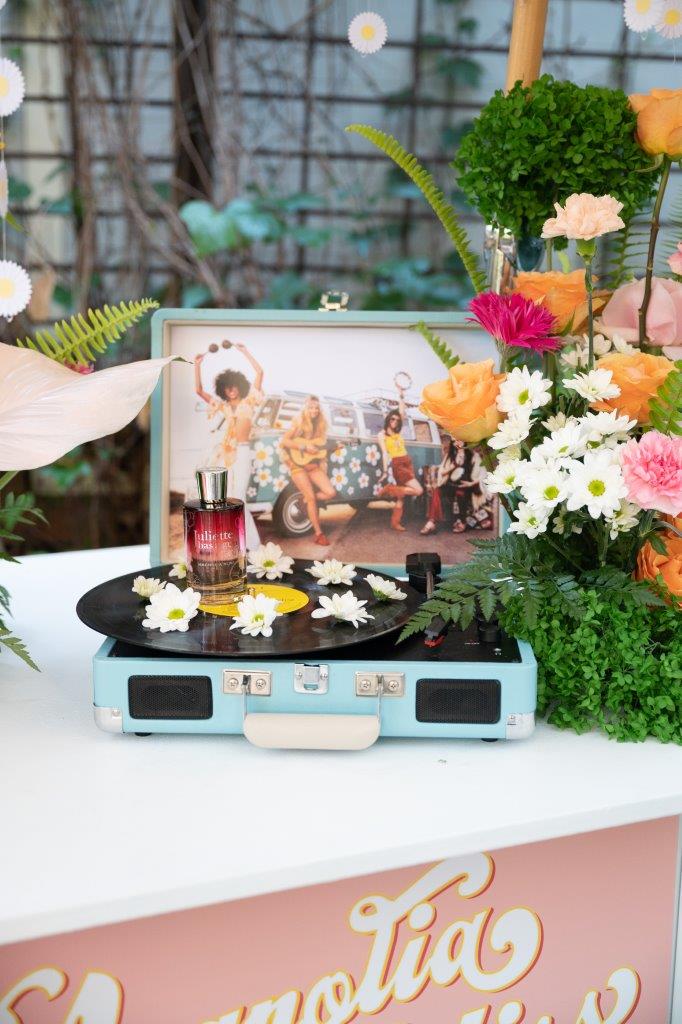 Read the current issue of our digital magazine below: