freezeframe's award winning, clinically proven formulas are designed to empower every woman to feel more confident in their skin. Our targeted treatments for face and body deliver proven results for effortless beauty, naturally.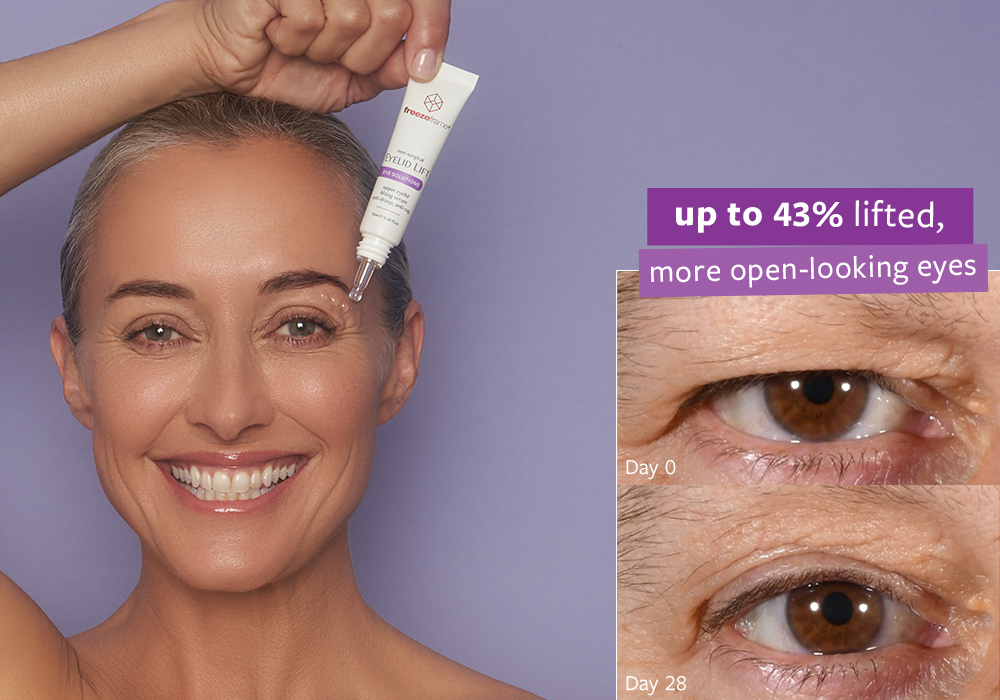 Experience the power of freezeframe's number 1 best-selling upper eyelid lifting serum, EYELID LIFT, a high performance topical treatment targeting sagging eyelids to dramatically lift and open eyes by up to 43% in 28 days.* With 99% natural biomimetic peptides the high performance formula strengthens the structural support of the upper eyelid, reinforcing elastic fibres by 186% with an instantly visible anti-fatigue effect. This breakthrough formula works wonders, tightening and firming the delicate skin around the eyes, revealing a more vibrant, awakened look.
The ultimate multitasker for flawless skin to moisturise, treat and perfect skin in one step. Say goodbye to imperfections and hello to a picture-perfect complexion. BB BLUR blurs away fine lines, wrinkles, and blemishes instantly. With its light and breathable texture, it effortlessly adapts to your skin tone, providing a natural, airbrushed finish. Vitamin C rich superfruit Kakadu Plum protects against free radical damage, boosts collagen, and is clinically proven to enhance luminosity and radiance and reduce wrinkles in just 15 days. BB BLUR is your secret weapon for radiant, flawless skin in seconds.
Say goodbye to stubborn belly fat and hello to a flatter, firmer tummy without the need for exercise. Our innovative formula targets the tummy with its advanced technology and two powerful ingredients, increasing the burning of fatty acids by activating thermogenesis, and mimicking the effect of exercise by stimulating mitochondrial activity in muscle fibres. Combined with exercise, the benefits are multiplied, in clinical trials waist is reduced up to 9cm in 28 days and a staggering 10.4cm in 56 days. Reclaim your body confidence with TUMMY TUCK.
Contact Us:
www.freeze-frame.com.au
Email: sales@selfcare.net.au
Phone: (02) 8000 4222