By Emmanuel Heymann and Mir Jawad, Similarweb
It's only when things are taken away that we realise just how much they mean to us. When the pandemic forced Australians to isolate within their homes last year, we suddenly realised the importance of all the things we had taken for granted.
According to our research, one of the things Australians missed most while in lockdown was their health and beauty regime.
Given the social distancing requirements, one of the first industries to shut down was the Health and Beauty sector. With the amount of human-to-human contact required in beauty salons, hairdressers, and make up studios, store fronts across the nation were forced to close overnight.
Suddenly, millions of Australians had no access to the expert beauty advice they had come to rely on – and many of them went online to take matters into their own hands.
By analysing Australian web traffic and search engine queries throughout 2020, we found the Health and Beauty sector was the second fastest growing online industry – with a 54 per cent increase in web traffic – behind only Home and Garden.
The findings, detailed in our Digital100 Insights Report, uncovered a range of interesting shifts in consumer behaviour as the nation adapted to life in lockdown – insights which brands can use to increase their online presence and meet the evolving needs of Australian consumers.
Digital DIY
One of the trends our analysis uncovered was an increase in Australians tuning into online tutorials to help them keep up appearances while in lockdown.
Whereas previously people could ask their trusted beautician for advice during an appointment, YouTube became the de-facto expert many turned to.
Over the course of last year, beauty-related question queries (searches with "how", "what", "when" etc.) increased by 106 per cent. Many of these searches first led customers to YouTube. Channel analysis for Australia's 10 fastest growing beauty websites showed YouTube was the second biggest traffic driver, increasing an impressive 304 per cent year-on-year, behind only traffic from search engine queries which drove 44 per cent of all visits.
With beauty tutorials having an immense impact on the consumer decision-making process, this evolving search behaviour during the shopper journey means brands should consider developing video tutorials and "how-to" guides to engage consumers online.
K-Beauty Booms
When looking at the 10 fastest growing Health and Beauty websites last year, a clear trend emerged with the rise of K-Beauty among Australian audiences.
K-Beauty is essentially an umbrella term encompassing beauty products made in Korea. Generally, these products have an emphasis on nurturing and hydrating the skin over the long-term, rather than "quick-fix" solutions such as overnight skin-peels. These products also tend to embrace natural – and sometimes unusual – ingredients like snail mucin.
The fastest growing Health and Beauty website last year, stylevana.com, is dedicated to Korean beauty products and grew an astronomical 924 times last year – from around 1,500 Australian visitors in 2019 to more than 1.4 million in 2020. Nudieglow.com – another K-Beauty focused site – was the ninth fastest growing, witnessing 264% growth.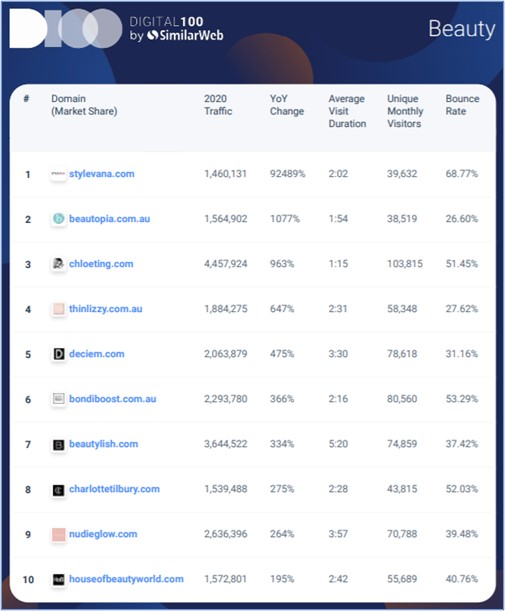 Deciem Dominates
While most of the fastest growing Health and Beauty websites were either 'marketplace' sites selling a range of different brands and products, or sites offering reviews, tips, and guidance, Deciem emerged as the most popular brand for Australians with 475 per cent growth in 2020. Perhaps the best way to highlight its popularity is to look at the 10 fastest growing search terms in the final few months of 2020.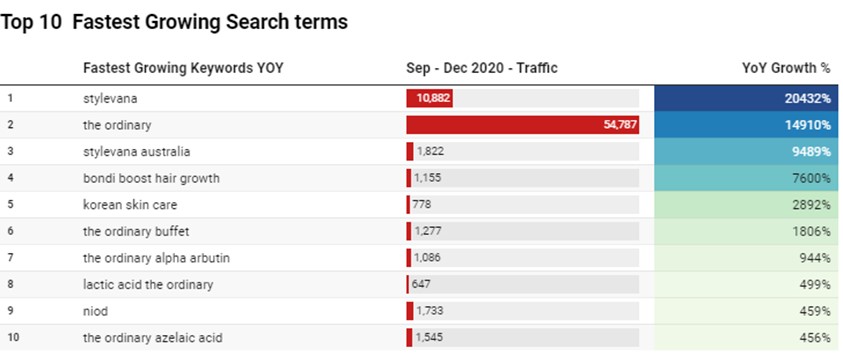 With around 15,000 direct search terms related to Deciem each month between September and December, it clearly commanded the highest overall traffic, making up six of the top 10 fastest growing search terms. Interestingly, with the exception of "bondi boost hair growth", the remaining top 10 in the same period were related to K-Beauty.
Living online
Before 2020, a digital presence was for many businesses a 'nice to have', but last year accelerated the shift toward digital-first. The fastest growing Australian brands were those who responded best to these new consumer demands.
Digital has well and truly become the primary way we engage as a society – whether that's with friends and family via video conference, streaming entertainment, working remotely, or taking care of our skin.
In the last 12 months, we've seen the pandemic change online consumer behaviour entirely, and many of these changes are likely to persist long after the pandemic.
Emmanuel Heymann is Vice President, and Mir Jawad is Head of Solutions Engineering, at Similarweb Australia and New Zealand – the world's leading traffic intelligence company.