With the beauty industry's fixation on newness from the rush to AI and AR to the new Threads app from Meta, it's easy to lose track of how major beauty players built and consolidated their market dominance.
At the age of 90, Leonard A. Lauder, Chairman Emeritus of the Estée Lauder Companies, is a true legend. Not only within the global beauty industry but also for his major contributions to the art world and education and philanthropic work and initiatives.
The Estée Lauder Companies (ELC) honours key employees twice a year through its Service Awards in Spring and Autumn. Among the 40 recipients recently was Mr Lauder himself, who celebrated 65 years of service with ELC.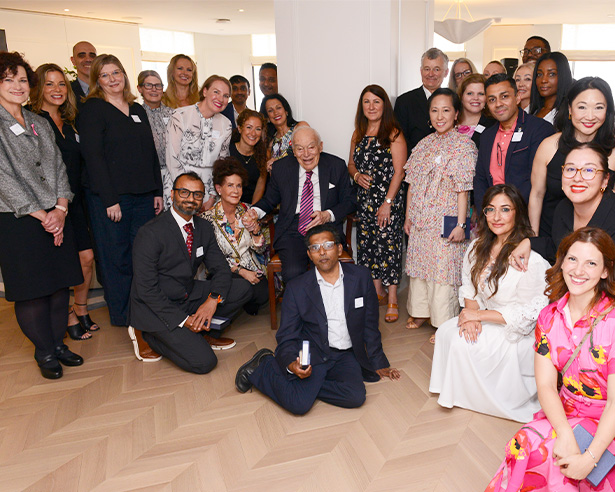 His son, William P. Lauder, Executive Chairman of ELC, was the host of the ceremony and paid tribute to his father. "He has been the heart and soul and visionary that has helped ELC to be the amazing company that it is today. It is a testimony to how great this company is that we have such a crowd of long-service employees to be celebrated in this room today, and it is because of the heart and commitment of Leonard A. Lauder".
To detail Mr Lauder's achievements would take a book and it's a good one – The Company I Keep – My Life in Beauty by Leonard Lauder.
In brief, though, he officially joined the company that carries his mother's name in 1958 when sales were US$800,000. A far cry from today's annual revenue of US$17.7 billion in 2022. In addition to increasing profitability through innovative sales and marketing programs, Mr Lauder also created the company's first R&D laboratory, springboarded international expansion (first to London in 1960) and instituted professional management at all levels.
From 1972 to 1995, he was President of ELC and also CEO from 1982 to 1999. He became Chairman in 1995 and retained the role until 2009 when he took on his current title of Chairman Emeritus. ELC launched many of its iconic brands under Mr Lauder's leadership, including Clinique, Aramis, Lab Series and Origins. From the 1990s, He also started expanding the company through acquisitions, including M.A.C, Bobbi Brown Cosmetics, Jo Malone London, La Mer and Aveda, which is still a major ongoing strategy today.
Mr Lauder coined the term Lipstick Index in the early 2000s, the theory that sales of affordable luxuries rise during economic downturns. Known as the "Chief Teaching Officer" within the company, he also conducts equity seminars and educational immersion programs for company personnel from around the world. A true legend indeed.
Read the current issue of our digital magazine below: